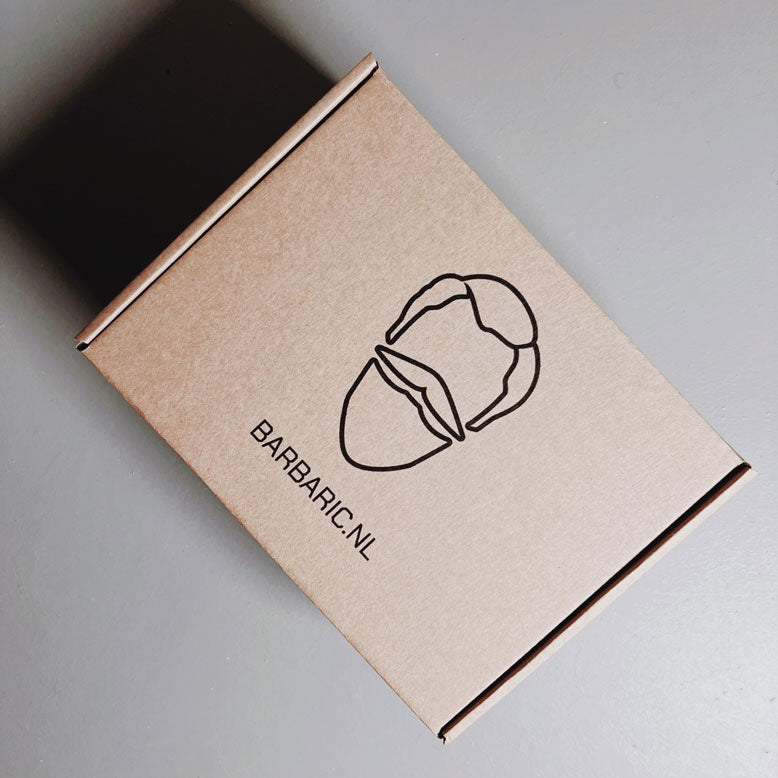 Ordered before 3 pm, delivered the next day
Shop now, pay later with Klarna
Een box met een mix van baardverzorgingsproducten, scheerproducten en tools. Een mysterieus cadeau voor jezelf of een ander.
De waarde bedraagt ruim €120, nu voor nog geen €70.
How do you take care of your beard?
Good beard care consists of a combination of the use of care products and a number of tools . Beard oil is essential for daily beard care: the nourishing ingredients keep your beard and the skin under your beard healthy. The oil also gives your beard a nice shine. Good to know: Barbaric's beard oil is silicone-free, which allows the nourishing ingredients to penetrate better.
In addition to beard oil, you need a beard brush daily. With the brush you not only detangle the hair, you also exfoliate the skin, as it were, with which you remove dead skin cells, dirt and loosened hair. During the day you use a beard comb, which you can easily take with you in your pocket.
Cleaning is the third important point in your beard care. Wash your beard once or more - not every day - per week with beard shampoo. Beard shampoo is milder and therefore better for your beard and skin than hair shampoo. Barbaric's beard shampoo is also free of sulfates and parabens and therefore even better.
How do you style the beard?
To style your beard daily, use beard balm and/or beard wax. Beard wax has the strongest hold and is therefore ideal for stiffer and longer beards and for shaping your mustache. If you don't need such a strong hold, use beard balm.
The beard item of the moment is the beard straightener , a beard straightener. If you have a somewhat longer beard and want to style it now and then, or if you have a wild beard that you want to tame, the beard straightener is ideal.
How can you stimulate beard growth?
If you have little beard growth or thin spots in your beard, use a beard roller and growth serum to stimulate beard growth.
What do you give a man with a beard?
You will make a man with a beard happy with any high-quality beard care product. For example, give beard oil, beard balm or beard wax as a gift. Also nice: order one of our gift packages, then you immediately have a nice set. A beard straightener, beard scissors and beard brush are also nice accessories to give as a gift.
Why choose Barbaric?
The answer is simple: you order your beard care products from Barbaric because we have high quality products and love for the beard. All Barbaric products are free of parabens, sulfates and silicones. In addition, the beard care products have wonderful scents that can be combined well.