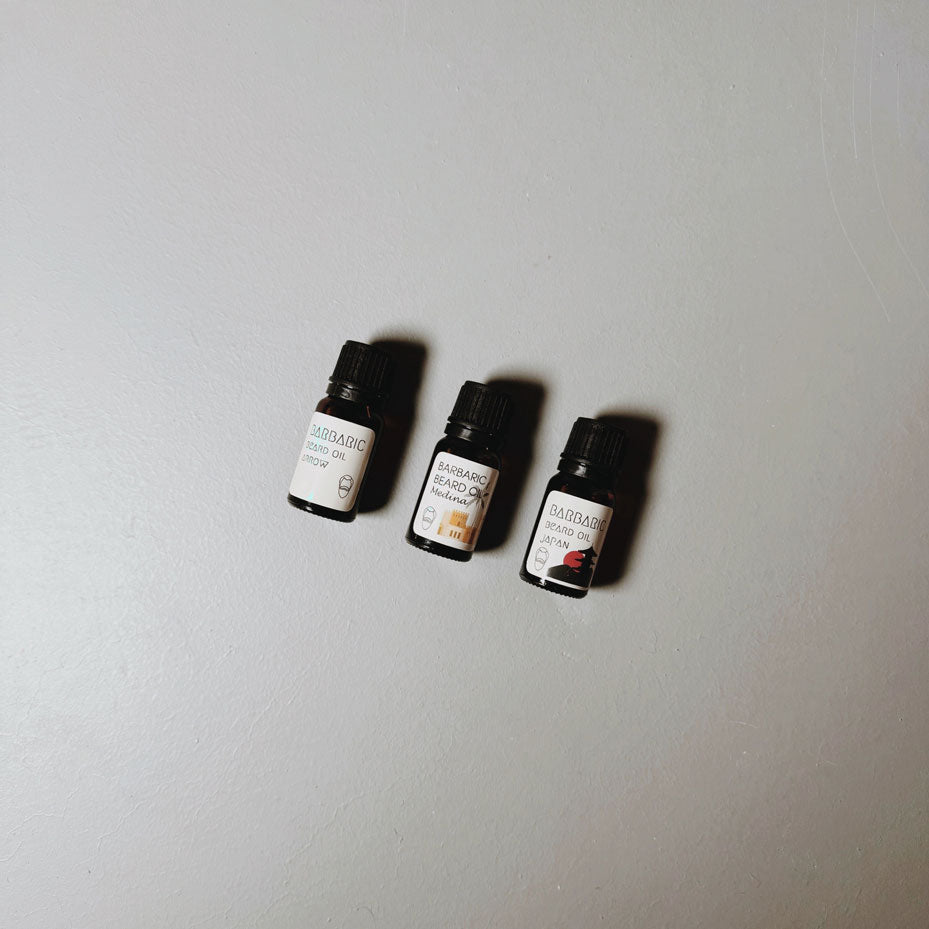 Ordered before 3 pm, shipped the same day
Free shipping from €30 (NL) / €50 (BE)
Free returns within 14 days
A set of three scents mini beard oil (10ml per bottle) based on almond oil, free of silicones. These minis are ideal to take with you on a trip, to test the different scents of oil or to give as a gift.
For care of the beard hairs and the skin underneath. Gives the beard shine and makes it smooth. An essential product for daily grooming, for short beards and long beards.
Three scents of beard oil in one package, which one you receive is a surprise. You can read more about the scents further down this page.

Prunus amygdalus dulcis (Almond oil), Vitis vinifera (Grapeseed oil), Ricinus communis oil (Castor oil), Aleurites moluccana (Kukui nut oil), Tocopherol & Helianthus annus seed oil (Vitamin E).

Beard oil is a care product for the beard hairs and the underlying skin, suitable for any type of beard. It nourishes the hair and your face, so that they do not dry out and you suffer from itching or dandruff. The nourishing and caring oils make your beard hair softer and shine, in short: you get a healthy beard.

The basis of this oil is almond oil, which nourishes the skin intensively and maintains the moisture content of the skin. In addition, almonds have an anti-inflammatory effect, which gives the beard oil a calming character. The oil also contains grapeseed oil, which with its neutral properties is suitable for every skin type and is an extremely high antioxidant. If you have sensitive/dry skin, you can also use this beard oil.

This nourishing beard oil contains no silicone. Silicone puts a layer around your skin and beard hair, as it were, so that the other ingredients cannot penetrate properly. And those ingredients are exactly what your skin and beard need to stay healthy.

If you want to use beard oil, it is important to distribute the drops of oil evenly. The essential oils then absorb better. It helps prevent a dry beard. This premium oil has a masculine scent and keeps the underlying skin healthy.
Scented beard oil : with three fragrance variants, there is something for everyone and you can vary nicely. The oil is based on almond and castor, rich in vitamins. Read all about the fragrances on the next tab.
Limited Edition Japan : beard oil based on apricot, argan and macadamia oil. With a calming scent, inspired by a journey through Japan.
Odorless beard oil : the Quiver variant is an odorless beard oil. Ideal for sensitive skin. It is beard oil in its purest form. Based on almond and castor, rich in vitamins.
Beard Oil Kit : why choose, when you can buy several scents at once? The beard oil kit contains three variants. Tip: This is a nice gift.
Mini Beard Oil Kit : three beard oil minis in a box, to try or to take with you on a trip. This is also a nice gift. Which scents you receive is a surprise.
At Barbaric we attach great importance to good smells. So why stick to one scent? No, we prefer to vary. This way you can alternate and there is something for every man. Which scent is your favourite?
Arrow : A rich, oriental scent reminiscent of the sea. With hints of mandarin, grapefruit and jasmine, on a warm woody base.
Dagger : amber and citrus, enriched with the sweetness of rose and lavender and the warmth of musk.
Sledge : an exotic woody fragrance with the spicy touch of ginger, the softness of water lily and the sweetness of vanilla and fig.
Japan: a journey through Japan, captured in a calming scent: sweet blossom, fresh eucalyptus and warm woods.
Quiver : odorless purity.
Good beard care consists of a combination of the use of care products and a number of tools. Beard oil is essential for daily beard care: the nourishing ingredients keep your beard and the skin under your beard healthy. The oil also gives your beard a nice shine. Good to know: Barbaric's beard oil is silicone-free, which allows the nourishing ingredients to penetrate better.
In addition to beard oil, you need a beard brush daily. With the brush you not only detangle the hair, you also exfoliate the skin, as it were, with which you remove dead skin cells, dirt and loosened hair. During the day you use a beard comb, which you can easily take with you in your pocket.
Cleaning is the third important point in your beard care. Wash your beard once or more - not every day - per week with beard shampoo. Beard shampoo is milder and therefore better for your beard and skin than hair shampoo. Barbaric's beard shampoo is also free of sulfates and parabens and therefore even better.
1. Clean and dry your beard and mustache.
2. Using the pipette, drip a few drops of beard oil into your hand or directly into your beard.
3. Massage the oil well into the skin under the beard and then into the beard hairs.
4. Use a beard comb/brush to distribute the oil and style the beard.
Beard oil is an essential product for a healthy and beautiful beard. It therefore belongs in your daily beard care.
But one beard oil is not the other: Barbaric's beard oil consists of natural ingredients and is free of silicones, so that the nourishing ingredients reach the beard and the underlying skin better.